Purchasing eyeglasses is an important decision. Whether it's your first or your hundredth pair, your glasses are a part of your life that not only help improve vision but are also an expression of personal style. A great pair can give you confidence, while a bad pair with the wrong prescription could be worse than no glasses at all.
But you're not in it alone! With the rise of online shopping, it's become increasingly convenient to purchase eyeglasses online, but there are several reasons why it may be better to buy glasses in person rather than online.
The same optometrist that helped you through your eye exam is also there to help you find your best pair. They know your eyes almost as well as you do. When shopping online you miss out on their professional knowledge, personalized recommendations, and the ability to try on different frames to find the one that works for you.
Accurate Measurements
When it comes to glasses, a proper fit is crucial. The frames need to sit comfortably on the face and the lenses need to be properly aligned with the eyes. It can be difficult to get accurate measurements for these things online, as you can't try on the frames or have an optometrist check the fit.
In the office, we can measure the distance between your eyes, the bridge of your nose, and the shape of your face to determine the best fit for your eyeglasses.
Your prescription can also change as you age. No one wants to spend all that time looking through hundreds of options, waiting for their glasses to be delivered, and then, after all that, discover that it's the wrong prescription. Going to your optometrist's office helps to ensure that you'll order glasses with the correct prescription.
Personalized Recommendations
Optometrists are trained professionals with a wealth of knowledge about eyewear. We can make personalized recommendations based on your specific needs and preferences.
For example, if you have a high prescription, we can recommend frames that will be able to accommodate thicker lenses. Or, if you have a specific style in mind, we can help you find frames that match your personal aesthetic. Online shopping typically can't provide this level of personalized recommendations.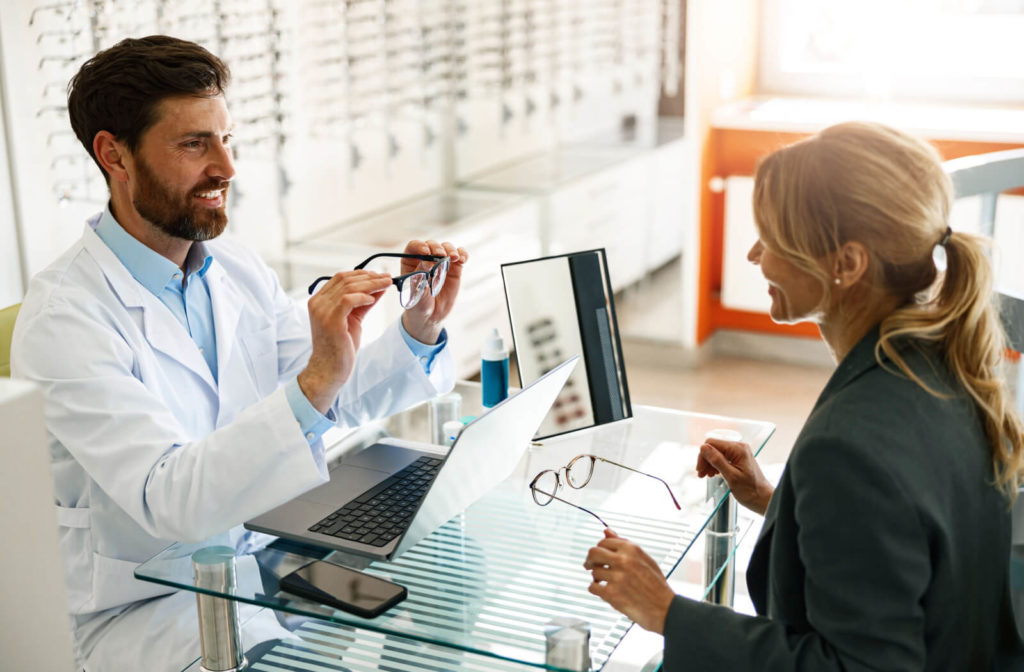 Try Before You Buy
Your glasses are a reflection of your style, and you! One of the biggest benefits of buying eyeglasses in person is the ability to try them on before making a purchase.
This is especially important if you're unsure about what style or colour will look best on you, rather than a model online. Trying on different frames in person allows you to see how they look and feel on your face, so you can make a more informed decision.
Quality Control
When shopping online, it can be difficult to determine the quality of the glasses you're purchasing. At the office, you can examine the frames and lenses in person to ensure they are of high quality. You can also ask us about the materials used in the frames and the coatings on the lenses.
It can be hard to gauge the robustness of a material solely off an image. When you hold a frame in your hands you'll be able to feel the construction. This can give you peace of mind and ensure you're getting a product that will last, rather than having to get replaced when you inevitably knock them off the bathroom counter.
Adjustments
Your perfect pair of glasses may not be perfect yet. Glasses can sometimes need adjustments to ensure a proper fit. If they're not sitting where they should be, it can cause eye strain or headaches, even if you have the proper prescription.
If you buy eyeglasses online and they don't fit properly, you may have to go through the hassle of returning them and waiting for a replacement. In a store, we can make any necessary adjustments on the spot to ensure a comfortable fit.
You're Supporting Your Community
Your local optometrist is your neighbour. Many people return to the same eye doctor because they can expect reliable service from a team that understands their needs. When you buy in person, you get to browse and chat with real human beings who are there to answer your questions and provide guidance when you need it.
By buying locally, you help strengthen your community.
The Focus is on You
For all these reasons, there's no better one than the simple fact that when you come into the office, you are the focus. Your glasses are solely for you and whether you have concerns or just want a helping hand, Queensway Optometric Center is here to help.
Whether you want fashion or function or something in between, our team is dedicated to getting you the best pair of glasses. So if you're looking for new lenses or want to change up your frames, come in today. We're excited to hear from you!