Every face is unique and holds qualities that can't be replicated by any other individual. Queensway Optometric Centre wants to help you find the perfect set of frames for your unique face shape. Our high-quality inventory of frames and lenses will have options available to suit the unique and unreplicable features of your face. If you require an update on your prescription before you buy new frames, visit our office for a comprehensive eye exam.
Assessing Your Face Shape
Determining your face shape is a simple process: just pull back your hair and examine the curvature and definition of your face. Then, by using the categories below, you can find which face shapes' your face resembles the most and make an educated decision about which type of frames you can benefit from.
Oval Face Shape
Oval face shapes boast the advantage of having balanced proportions. To retain the naturally balanced look of this face shape, try to find frames that are as wide or wider than the broadest portion of the face. Walnut-shaped frames can be a good choice for an oval-shaped face as long as the frames are not too deep or narrow.
Round Face Shape
The feature that signifies a round face shape is the presence of curved lines that retain the same length and width in an even proportion; this means that a round face shape will not have any sharp edges. Angular, narrow frames can be a good choice as they lengthen the look of this face shape and make it appear thinner. Rectangular frames that are wider than they are deep can also be a good fit for this face shape.
Square Face Shape
Those with square face shapes will have a strong jaw and a broad forehead, with the width and length of the face having roughly the same proportions. Narrower frames and frames that have more width than depth can be a good style option for a square face shape, as they offer a look that can soften a face's angles and make it appear longer.
Diamond Face Shape
Diamond-shaped faces begin narrow at the forehead and jawline but will broaden near the cheekbones. This makes this face shape look high and dramatic, which can benefit from frames that highlight the eyes and soften the look of the cheekbones. Frames that have detailing or distinctive brow lines, rimless glasses, and cat-eye-shaped frames can all be good choices for this type of face.
Oblong Face Shape
This type of face shape is longer than it is wide. The cheek lines of this face shape are also long and straight. By wearing frames that have more depth than width, or frames with decorative or contrasting temples, this face shape can look more balanced and add the appearance of width.
Heart Face Shape
A heart-shaped face will appear to have a wide top third and a narrow bottom third. By choosing frames that are wider near the bottom, the top third of a heart-shaped face can appear less wide. Rimless frames and frames light in colour can also be good choices for this face shape.
Base-Down Triangle Face Shape
A base-down triangle face shape has a wide bottom third and a narrow top third. Frames with heavily accented colour and detailing near the brow of the frame, or cat-eye shapes can help emphasize the top third portion of this face shape and give it the appearance of more width.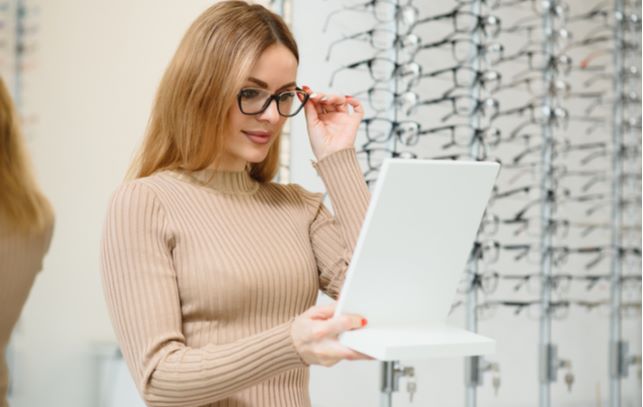 Other Cosmetic Factors for Choosing Glasses
While complimenting your face shape should be the first priority in picking frames for your glasses, other cosmetic factors like hair and eye colour can influence what type of frames will suit you best.
Eye Colour
Paying attention to your eye colour can help you determine what colour of frames works best with your eyes. The colour of your frames will mostly depend on your personal preference, but you can narrow down your options by asking yourself if you want frames that contrast the colour of your eyes or frames that compliment the colour of your eyes. The colour of your eyes can also help you determine if you want to wear cooler coloured frames or warmer coloured frames.
Hair Colour
Much like eye colour, pairing a set of frames with your hair colour is mostly up to personal preference. Again, you should ask yourself if you want to contrast or compliment the colour of your hair with your frames, and whether cool or warm coloured frames will suit you the best.
Skin Tone
Skin tones can also be classified as cool or warm. Warm complexions tend to have a yellow undertone, and cool complexions have blue or pink undertones. Olive coloured skin can be considered cool, but it is a mix of both types of undertones.
Choosing a Frame Material
If you live a very active lifestyle, it is worth considering getting frames that are made of highly durable materials. Some lightweight, strong, and flexible materials that can benefit an active eyeglass wearer include flexon, nylon, aluminum, and stainless steel:
Titanium is a favourite of those who live active lifestyles — it's lightweight, durable, and strong. Frames made from this material are hypoallergenic, but are pricier than many other materials that can be utilized in manufacturing frames.
Cellulose acetate, a type of plastic, is another high-quality material for frames. It is a less expensive option compared to titanium frames but can tend to become less durable over time. This type of material is also hypoallergenic, similar to titanium.
Monel, a nickel-copper alloy, is another durable option for frame material as it resists corrosion. Avoid these frames if you are allergic to nickel, as they might irritate the skin and cause unwanted allergic reactions.